Careers at Movate – Philippines
We're hiring in the Philippines
Manila's tech boom is attributable to various factors such as a favorable business climate, the ease of doing business, government regulations, robust infrastructure, burgeoning tech-savvy talent, and English language proficiency. These factors position the island nation as the strategic choice for professional support services and in turn impact the Filipino economy. The Philippines continually stands as an outsourcing hot spot for global brands. Besides the robust workforce policies and government incentives, the nation evinces significant growth prospects in the years to come.
Bursting on the scenes of Asia's growing young population are Manila's millennials, Gen X, Gen Z, and their larger-than-life personas. Quenching the aspirations of this vibrant cohort comprising young and seasoned professionals alike are specifically curated career opportunities at Movate.
Movate in the Philippines
A competitive talent community and compatible time zone have spurred Movate's growth in the city known as The Pearl of the Orient Sea. Movate opened its first center in Manila back in the year 2009 and its second facility in the year 2018. With a strong focus on Customer Experience (CX), Movate's state-of-the-art facilities in Taguig City offer customer care, technical support, and customer acquisition for big brands in the market. The teams' swift resolutions, omnichannel, and empathetic support help clients delight their customers at every interaction.
The culture code
Recognized for the "Best Global Culture – 2023" by Comparably, Movate was hailed as the "Best Company for Diversity" and the "Best Company for Women" by Comparably in 2022.
Strong family ties, work-life balance, digital skilling programs, and career progression opportunities are integral to the work culture. We believe in nurturing the passions and talents of our exceptional teams. Be a part of a fun-loving community of diverse Gen-Zs, millennials, and seasoned professionals who are unleashing their full potential and making their voices heard. Work with the most preferred employer and experience a workplace where you push boundaries, explore new possibilities, and celebrate your passions.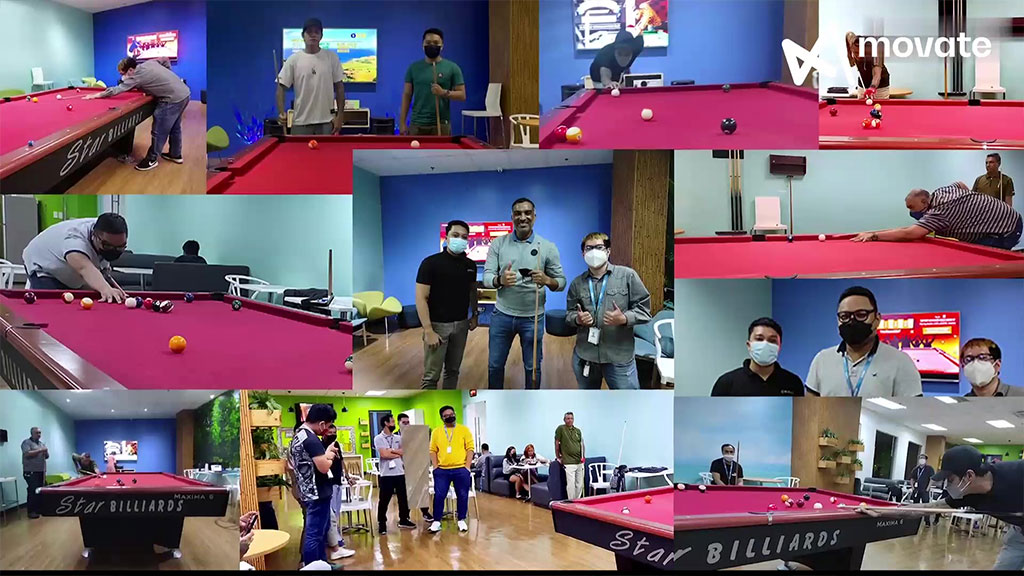 Discover an array of career opportunities that can propel your tech career forward.
Position Title: Senior Director/ Director Finance
Location: Taguig City, Philippines
Experience: 8-10 years of financial work experience in Philippines
Summary:
Philippines Finance manager will be playing a key role in the Leadership team while leading Philippines Finance function. This role will provide financial and operational leadership, working closely with the business leaders across the country, focusing on strategic growth of Movate's business in Philippines. This includes driving commercial growth, operating performance as well as key initiatives while ensuring tight controls on accounting & compliance. This role reports to the Controller.
Roles and Responsibilities:
Partner with the Philippines Leadership Team and CFO to execute on the business strategy, focusing on commercial finance & cost management.
Liaise as required with the customers and channel partners on operational maters
Lead commercial intensity and instill "daily" rigor (eg Orders and sales pacing) by providing management with timely, complete and accurate financial information for business decision-making process.
Proactively identify process improvements and engage stakeholders to develop actions to reduce business costs, improve profitability and liquidity
Work closely with local statutory authorities to ensure 100% compliance
Lead Philippines finance function by providing mentoring and coaching to the team; provide oversight to Controllership, Tax, as well as Shared Services to enable smooth closing process. Support internal and external financial audits as required.
Required Qualifications:
CPA or any equivalent degree in Finance, or Business Administration and minimum of 8-10 years of financial work experience in Philippines
Experience working in global business environment with sound understanding of global process and transactional flows
Experience leading in a matrixed environment, leading team members balancing execution through others with inclusiveness, leveraging expertise, clear thinking, imagination, and external focus.
Lean mindset, seeking to improve, automate and digitize
Demonstrated experience and understanding of Accounting Principles and Controllership.
Desired Characteristics
Strong analytical skills: able to clearly link financial results to operational performance drivers, generate alternatives and drive positive change
Clear thinking/problem solving successfully led cross-functional projects/process improvement within operations/finance function involving process improvement; able to quickly grasp new ideas
Apply here
Position Title: Inside Sales – Team Lead
Location: Taguig City, Philippines
Experience: 7 – 10 years
Job Description:
Key task will be to focus on managing end to end Inside Sales/Lead Gen operations
The Specialists will be mapped to a specific GEO / Vertical of Movate and will focus on selling / setting meetings for the Sales persons with influencer / decision maker of the Potential Prospect (Client)
The Inside Sales Specialist role is a Customer-facing role (C-level, Directors, and VPs) over phone and other channels.
The Inside Sales specialist should have experience of selling services and solutions in any market.
The Inside Sales specialists should be aware of IT/BPO technologies and the typical contact center challenges that CXO's have to deal with.
The Inside Sales specialist is expected to articulate Movate's Services/Solutions, messaging and positioning to the target customers and help sales in winning new business and achieve personal KRA's set.
Primary Job Functions:
Research and develop database of qualified prospects aligned to organization's strategy and launch personalized outreaches to engage with them
Prospect, develop, up-sell, cross-sell and generate new business opportunities for Movate in the assigned accounts / territory.
Maintain a consistent and accurate sales lead pipeline.
Work as the overlay techno-commercial expert
Nurture a potential prospect over a period of time and build credibility for them to accept a meeting with sales.
Ability to use CRM to manage opportunities and leads.
Desired Skills & Experience:
SELF-STARTER, HUNTING skills are a MUST
7 – 10 years of experience of BPO Inside sales in any market or Customer Service in Global environment
Good written and oral communication skills.
Passionate about generating demand and building relationships with prospects
Active in social networking, especially LinkedIn
Good in Team Handling
Apply Now
Build your future at Movate
Roles Available
Recruitment fraud alert
The team at Movate has been alerted about fraudulent messages, hoax emails from certain employment agencies, and people requesting candidates for money in exchange for a position at Movate.
Movate is a merit-based employer and does not authorize any agency or individual to collect money or request a security cash deposit for employment at Movate.
As a job seeker, please be wary of the following guidelines to identify hoax job offers and emails:
We don't send job offers from email services like Gmail, Rediffmail, Yahoo mail, Hotmail, and other email ids.
We never request money for any purpose before, during, or after the hiring process.
The Movate recruitment team does not collect personal information or sensitive documents like bank account details or credit card information for hiring a candidate.
Stay safe and stay vigilant.
Did not find an appropriate opening in the openings section?
No worries, we would still like to hear from you. Please drop your resume below and we will get back to you if we see a fit.