Careers at Movate – Romania
We are hiring in Romania
Apart from its vibrant entrepreneurial spirit, Romania witnesses a growing tech industry—a flourishing talent community of graduates positions Romania as the go-to nation for CX and tech-support services. Movate's investment in Romania marks bridging the EU talent gap and accelerating digital transformation. Movate's expanding presence in Romania means rewarding career paths in the fast-growth tech sector of the EU.
Movate at Romania
Movate's delivery center is in Bucharest—largest city in Romania. The proximity to Western Europe, a growing economy, a robust infrastructure, nearness to neighboring EU cities, and a strong presence of tech talent gives the metropolis an advantage. Movate's delivery center offers multilingual support services for clients in and around the EU.
Clients across industries increasingly turn to this location for accelerating digital agendas. The team here serves the spectrum of Enterprise Product Services, Digital Customer Experiences, Digital Infrastructure, and Digital Engineering Services. This location is evincing heightened interest, with many projects underway. Movate's growth rate vouches for a market rife with business and employment opportunities.
The culture code
Movate was recognized for the "Best Global Culture – 2023" by Comparably; Comparably hailed Movate as the "Best Company for Diversity" and the "Best Company for Women" in 2022.
People across diverse cultures call this city their home. This location is bursting with a young and vibrant talent pool in a country famous for its lively folk traditions, cuisine, and mythology. Here's a peek at Movators in Romania.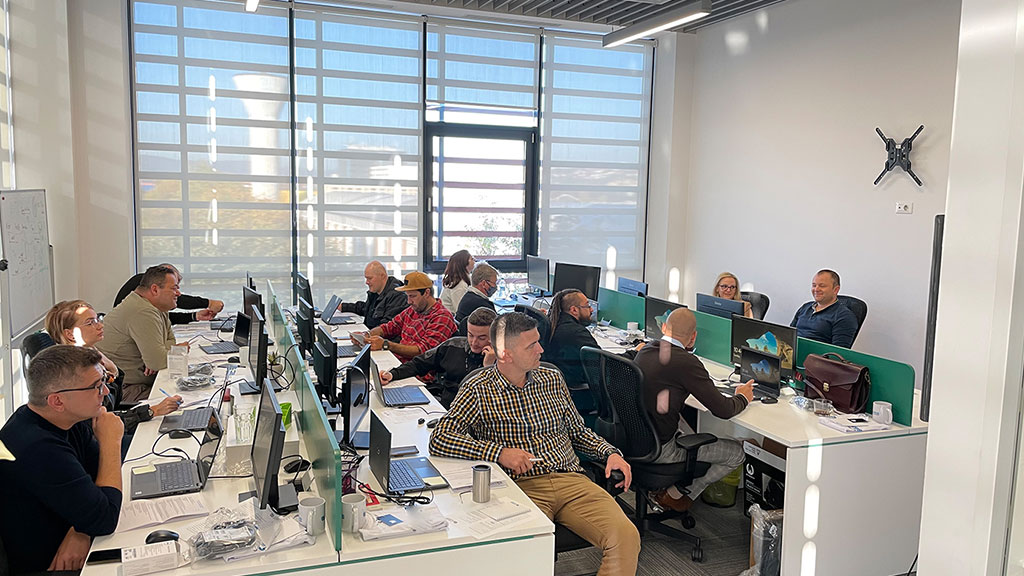 Discover an array of career opportunities that can propel your tech career forward.
Position Title: Customer Service Representative
Location: Romania
Working Hours: 8AM to 5PM EEST Monday thru Friday (5×9); may be required to work other shifts to meet customer needs
Experience 
Minimum 6 months -1 year of demonstrated customer service-oriented experience
Functional Skills 
High level Integrity, understand & abide by our business practices
Willingness to learn (LOB specific product/service, policies & processes), execute and improve
Ability to effectively navigate through desktop tools, applications and websites
Basic Knowledge on MS Office
Excellent Problem solving skills with proficiency in identifying issues by performing Root cause analysis
Proficiency in keyboarding (30+wpm), Windows-based applications, internet and web browsing
Ability to utilize various documentary and personnel resources to craft case-specific action plans
Ability to work with a sense of urgency
Ability to spot and report areas for continuous process improvement
This role is temporarily remote due to COVID-19.
You must be able to work assigned shifts during the center's hours of operation: 8AM to 5PM EEST Monday thru Friday (5×9)
Bachelor's degree in Computer Engineering, Management Information Systems or equivalent degree/experience preferred.
Soft Skills:
Must possess excellent oral and written communication skills in German/French/Italian + English
Ability to express precisely and with clarity
Excellent listening & Probing Skills
Exhibit strong interpersonal techniques – is positive, pleasant, respectful and customer focused
Ability to express empathy and exhibit a desire to help others
Provide case handling that is unique and based on each individual customer's specific needs and schedule
Ability to de-escalate difficult customer issues to full resolution
Focus on creating a satisfying experience for the customer by using professional customer service techniques, personalizing and focusing on adding value
Ability to cope with stress and to remain calm in all customer service situations – remain patient, polite and provide excellent customer service
Preferred to have trouble-shooting experience with VoiP/Cloud PBX systems / cloud telephony technology
Ability to handle high volume of tikets, phone calls, and chats.
Being a true team player is a must.
| | |
| --- | --- |
| Job Level | Fresher / Entry Level |
Designation: L1 – Security Support Engineer
Location: Romania
Experience: Minimum 1 Year Experience in endpoint security support  for English
Primary Responsibilities and Duties:
Troubleshoot all Level 1 support from the EMEA region & First response for US customers.
Provide exceptional customer service while responding to phone, e-mail, and online requests for technical support.
Represent the customer to ensure serviceability and product quality issues are being tracked, prioritized, resolved, and incorporated into the product release cycle.
Assist customers in the triaging and troubleshooting of clients products
Track and monitor all support cases to ensure timely resolution and follow-up.
Engage with Tier 2 support and escalate the cases in a timely manner
Clearly identify documents, and find solutions for customer issues and product problems using the client's KB engine.
Escalate critical customer situations to the appropriate level of management.
Communicate technical issues to support teams and to clients always
Skill Set Requirement:
1 + Years in enterprise endpoint security or technical assistance center support
Basic understanding of security concepts
Strong understanding of Windows
A basic understanding of Windows servers & Active directory concepts is an added advantage.
Basic knowledge in Virtualization and Cloud Concepts is an added advantage.
Excellent Written & Verbal communication skills
Ability to work a day shift with flexibility for on-call rotation a few times a month after hours
Build your future at Movate
Roles Available
The team at Movate has been alerted about fraudulent messages, hoax emails from certain employment agencies, and people requesting candidates for money in exchange for a position at Movate.
Movate is a merit-based employer and does not authorize any agency or individual to collect money or request a security cash deposit for employment at Movate. As a job seeker, please be wary of the following guidelines to identify hoax job offers and emails:
We don't send job offers from email services like Gmail, Rediffmail, Yahoo mail, Hotmail, and other email ids.
We never request money for any purpose before, during, or after the hiring process.
The Movate recruitment team does not collect personal information or sensitive documents like bank account details or credit card information for hiring a candidate.
Stay safe and stay vigilant.
Did not find an appropriate opening in the openings section?
No worries, we would still like to hear from you. Please drop your resume below and we will get back to you if we see a fit.