Environmental
Social &
Governance
Creating meaningful impact with social and sustainability programs
Movate is committed to make its operations sustainable and to respond effectively to its external impact. At Movate, we integrate CSR and sustainability into our core business strategy and is designed to create value and positive change. The senior leadership of Movate including the board has made a firm commitment to CSR & sustainability. The senior management is also engaged in it. While sustainability and CSR has been a part of the culture at Movate, it is only recently that we have taken a concerted decision to formalise our efforts to create lasting impact. We have taken a long view to accelerate our efforts systematically over a 3-5 year horizon.
Respect and responsibility towards people, community and natural environment will be central to our CSR. Movate is committed to assigning leadership and resources to CSR activities within its community and areas of influence. At Movate, we have identified four CSR focus areas:
Education
Engaging & supporting education for underprivileged children, providing digital literacy programs, skill development, infrastructure support and training for low-income groups. Skill development, training, infrastructure support and supporting at colleges & institutions that enable employability.
Environment sustainability
Ensuring environmental sustainability & protection, ecological balance, and conservation of natural resources.
Community development
We believe in improving the lives of local communities and support their endeavors for sustainability, cleanliness drives, waste management, and green initiatives. If required skill development, infrastructure support, and training at communities will be provided to improve employability.
Support in times of need
Supporting relief and rehabilitation efforts arising out of a national disaster.
As is known to all, in a world that is totally digitized, computer knowledge is essential from a very basic age. Computers aid the development of children in many different ways: vocabulary and language development, phonological awareness, understanding of books, knowledge of letters and words, enjoyment of literacy, number concepts, patterns and relationships, measurements, visual arts, and much more. We at Movate have extended our support towards the setting up of a computer lab at St. Anna School, Chennai, thus educating the school and molding the students to be computer literate. We are also providing desktop computers, UPS, internet connection, tables, chairs, air conditioners, painting, mural art, teacher table, floor renovation, lighting, entrance readiness, cupboards, and many other utilities. We have extended our support in controlling rainwater leakages in the classrooms.
Installing two solar operated cloth bag vending machines. The vending machine can accommodate 500 cloth bags and each bag can hold up to 5 kg weight. The same can be collected from the vending machine by inserting Rs 10 coin or note or even making payments through UPI. The initiative aims to solve two main pressing issues, i.e., eliminating single-use plastics and reducing unemployment issues among women self-help groups.
Setting up three AAVIN shops for women beneficiaries.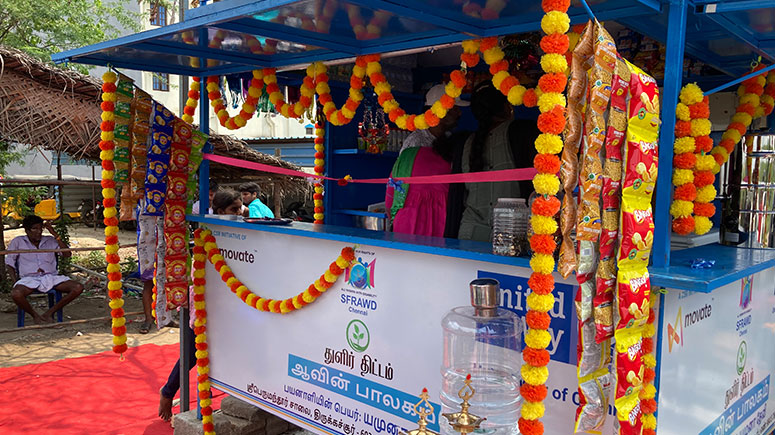 Employment-based training in appian platform to Persons with Disabilities (PWDs) and women beneficiaries
Movators visited St. Anna School, Chennai, India to support a great cause. During the visit, we provided beneficial materials to over 150 children belonging to the school and the orphanage. The children and the staff in charge were served an appetizing lunch with dessert. Following this, the CSR Movators distributed backpacks, shoes, and goodies to all the children. The school offers free education to orphaned children.
KBR Park is located in Jubilee Hills in Hyderabad. The park has an approximate area of 390-acre. In a city that's rapidly losing its green cover, this park is one of the few large, surviving open space areas. On average, close to 500 people use the facilities daily at the park. Installing the RO plant has provided the walkers and visitors access to clean and purified water.
The Integrated Child Development Services (ICDS) center plays a tremendous role in the lives of women as the main concern of the women taking up a job is childcare. The ICDS scheme comes under the purview of Gender Responsive Public Services. The estimated population in that vicinity is 95,000 this includes people from across Chennai and the nearby districts. Movate refurbished two Anganwadi Centers and provides the necessary facilities for childcare.
Movators identified families migrated from various places to areas around  construction sites to make a livelihood. We extended a helping hand to support these communities by providing them with basic amenities and groceries.
Medical camps across Hyderabad were conducted as part of eye and preliminary health screening for the transgender (TG) community. 370 people of the community were benefitted through nine drives in collaboration with LV Prasad Eye Hospital. 30 spectacles were donated after a special eye camp. The drive was initiated on March 12th, 2022 and concluded on March 31st, 2022 – A day dedicated as International Transgender Day of Visibility
Movate installs Solar Panels with battery back up at The Government Urdu Model Primary School (GUMPS), Bangalore, Karnataka. The installed capacity is 1100 Watts which covers fans, lights and a computer system. The school had a requirement to provide power supply for light bulbs alone due to the frequent outages in the locality. We have extended our support to a few selected fans and also a computer during this installation. The connected points will draw power from solar energy whenever electricity is cut off from the grid. For normal usage, the system will operate on solar power. This arrangement ensures classes to operate normally during power outages and thus experience considerable reduction in carbon emissions. This system has been provided with an AMC package for three years, starting from the second year onwards.
In the heart of every child is a hunger for home. Not just for food and a place to sleep, but for safety and community. Most importantly: for love. ALL THE CHILDREN organization , an Indian social improvement association, is straightforwardly benefitting more than 80 children and 50 senior citizens consistently. From medical care, to fitting social conduct, to understanding one's privileges – ALL THE CHILDREN organization looks to teach, enable and develop better residents.
Movate extended support to "All The Children Home (ATC)" at Chennai by donating two month groceries, school bags for children, washing machines and boxing kits. The children at this home have no kith nor kin and have no place to reside. This organisation provides quality education, boxing training, dancing classes, food, regular workshops on arts etc. for the resident children at the home. Apart from this the home also supports the requirements of elderly people.
Donating cooking pulverisers for grinding rice, wheat and masala to Anandam Old Age Home. These machines will support automation of the cooking process for 100 plus senior citizens and the working staff. The food is prepared by the residents. This is a free home for senior citizens who have no family members to take care of them. The home supports healthcare, stay and quality food to all inmates at no cost.
Supporting a home for special children which provides the needs and shelter to the girl children, who are orphaned being intellectually challenged while some of them are crippled and disabled. Many of the disabled children have gone through difficult times with many disturbing incidents to recall.
The Aram Charitable Trust with a moto to protect and promote the right and dignity of people who are marginalized and ignored, is taking care of the girl children providing learning skills under the guidance of a dedicated & trained coach. We have extended our hands towards refurbishing the entire room with interior painting, wall graphics, hospital based cots with mattress, fans, lights, television and also a door.
We have planted 1500 tree saplings at National Security Guard (NSG) regional hub campus at Vandalur, Chennai. 15 varieties of native tree species were chosen for the plantation. Pre-site preparation and plantation was carried out involving 110 plus volunteers from Movate & their family members, friends, NCC cadets, NSG commandos and general public. All these saplings were planted on a hillock and will be nurtured for successful survival.
We have donated therapy equipment and material to Jeyam Special School at Padi, Chennai. The school specializes in providing government-approved formal training to children with special needs. More than 25 essential requirements including a treadmill, a static cycle, dexterity boards for finger exercise, medicine balls etc. were donated to the school.
Supporting water, sanitation and hygiene related needs across Government Schools
A school and its environment is the basis of growth for children. Proper restrooms and safe drinking water at schools will ensure more turnout of students. Movate constructed & handed over three toilets, commissioned RO water drinking system and will monitor the quality of water for next two years. The schools benefited are:
| | | |
| --- | --- | --- |
| Government High School Hoodi Main Road, Hoodi | Government High School Stage II, Kengeri Satellite Town | Government High School Kumalgod |
| Three washrooms | 50LPH RO water system with 200 Litre storage capacity | 50LPH RO water system with 200 Litre storage capacity |
Movate has planted 1500 tree saplings inside National Security Guard (NSG) campus at Vandalur, Chennai on 75th Independence Day. About 150 people participated in the drive which involved Movate employees and their families, friends along with NSG commandos and public.
With the rising scarcity in access to basic healthcare facilities and equipment's during the pandemic, we contributed oxygen concentrators, nasal cannulas, masks, and gloves to Kilpauk Medical College & Hospital, Chennai; Rotary Club of Bangalore and Ashray Akruthi, NGO in Hyderabad. Movate contributed:
6 oxygen concentrator devices
150 Nasal cannulas
1000 pairs of nitrile gloves
1000 pairs of latex gloves
500 N-95 masks
A school and its environment is the basis of growth for children. Lack of access to proper sanitation facilities poses a huge barrier to education as children frequently forego school due to hygiene-related diseases. Restrooms and proper washing stations can help prevent the spread of many diseases and parasites. Restrooms play a key role in creating a safe and healthy school environment where children can focus on learning. We are glad to announce that we have constructed and handed over five restrooms to The Government Model Primary School at Bangalore.
Movate has planted 2500 tree saplings inside CRPF campus at Avadi, Chennai. CRPF enables the government of India to maintain Rule of Law, Public Order and Internal Security effectively and efficiently, to Preserve National Integrity and Promote Social Harmony and Development by upholding supremacy of the Constitution.
At CRPF, we adopted the "Miyawaki method" which is a unique technique to grow dense forests. Under the approach, dozens of native species are planted in the same area, close to each other, which ensures that the plants receive sunlight only from the top, and grow upwards than sideways.
Native trees from India, which are fruit bearing and pollinating were planted. These saplings once matured will increase our quality of life by bringing natural elements and wildlife habitats into urban settings. They also act as natural water reservoirs and help conserve and replenish ground water. For the event, 55 sapling varieties were chosen and 2500 saplings were planted.
To achieve this feat, 265 plus volunteers from Movate & family members, CRPF Javans, NCC cadets and public were part of this plantation drive. These saplings will be maintained for next two years.
Movate donates personal address sound systems, computer with UPS, printers and cartridges across four government schools.
Movate donates groceries to old age home at Ambattur and refrigerator, computer, colour printer and cartridges to Palliative and Hospice care at Manali
Movate has planted 1500 tree saplings inside National Security Guard (NSG) campus at Vandalur, Chennai. NSG is a federal contingency world class zero error force to deal with anti-terrorist activities in all its manifestations. This NSG base is mainly used to train elite commandos to counter terrorism.
The area for tree plantation in the NSG campus is a raised terrain. Miyawaki type plantation concept was adopted, over a period of time the saplings will grow in to a dense rain forests. Native trees from India, which are fruit bearing and pollinating were planted. These forests will serve as a natural habitat for animals with food and shade. They also act as natural water reservoirs and help conserve and replenish ground water. For the event, 12 sapling varieties were chosen and 1500 saplings were planted.
To achieve this feat, 160 plus volunteers from Movate along with their family / friends, NCC cadets and public were part of this plantation drive. Theses saplings will be maintained for next two year.
Movate in its fight against COVID 19, has supported Voluntary Health Services (VHS) Hospital at Tharamani, Chennai towards donating MISPA – i2 medical equipment which helps in detecting D-Dimer levels and 750 numbers (500ml each) of hand sanitizers. D-Dimer machine has reduced the sampling TAT from 6 hours to 5 minutes resulting in saving time, cost and human lives
Get in touch with us